Cross Canadian ragweed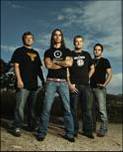 Latest News
New to Humphead Records the new album from Cross Canadian Ragweed, "Happiness and all other things" avaliable 31st August!

Cross Canadian ragweed Biography
Let's get this straight right off the bat, though it should be obvious to any and all who have been listening over the last decade or so: Cross Canadian Ragweed are a rock'n'roll band. "They may be the last great Southern rock band still stomping the boards," says All Music Guide, while USA Today proclaims that "this ferociously rocking band is one of the better-kept secrets around." But not a secret for much longer, as their seventh studio album, Happiness and All The Other Things, amply proves.
And, yes, being from a small town in Oklahoma and three of them now residing in the Lone Star State (where they are kings of the thriving Red Dirt/Texas music scene), Cross Canadian Ragweed also qualify as country, and have even played The Grand Ole Opry. It's only natural, part of the musical heritage that the members of the band grew up on. But as CMT.com noted of the band's set at the 2008 Chicago Country Music Festival, Cross Canadian Ragweed triumphs at "showing folks how hard country can rock."
Ragweed's utterly natural Southwestern rock style abounds on Happiness and All The Other Things. The 12-track opus opens with a one/two punch/kiss combo that sets the band's wide parameters: The fiercely rocking road tale "51 Pieces" followed by a sweet taste of the Texas Hill Country springtime on "Blue Bonnets," whose sparse and lovely arrangement features harmonium by Joe Hardy (the star recording engineer who mixed the album) and dobro by noted musician and producer Lloyd Maines (also the father of Dixie Chick Natalie Maines). And then it only gets better.
Produced by the band's longtime compatriot and artist in his own right Mike McClure, the album also features harmony vocals and piano by Stephanie Briggs, who co-wrote many of the songs with Canada. "We wanted to make something that sounds different than anything else we've done," explains singer, songwriter and lead guitarist Cody Canada. And to wit, the disc ranges from rockers that soar ("Burn Like The Sun"), sear ("Drag" and "Overtable") and groove ("To Find My Love," sung by bassist Jeremy Pilato) to such mid-tempo gems as "Kick In The Head" (with a 1970s California country-rock feel lit by sparkling steel guitar from Maines), "Pretty Lady," "Tomorrow" and "Confidant" (with its echoes of Tom Petty), all of it finally capped by the spectral Beatlesque ballad "My Chances" (and then followed by a bonus track of Warren Zevon's "Carmelita"). And within the album's many modes and moods, the proud legacy of American rock'n'roll gets renewed and reinvigorated for the modern age.
It follows on the heels of Mission California, which hit #6 on Billboard's Top Country Albums chart and #30 on the Top 100 week of release, all without the benefit of major radio airplay. Texas Music magazine hailed the album as "a disc that's bad-ass and nationwide with a swagger that finds them playing their way firmly into the pantheon of great American rock'n'roll bands, Southern division, right up there with rebel generals like the Allmans, Skynyrd, Georgia Satellites and Tom Petty & The Heartbreakers."
All of that is no secret to Cross Canadian Ragweed's legion of fans across the nation, especially those in the Texas/Oklahoma area who have supported the band from the start. It's a rare bond of mutual loyalty between a group and its listeners that was grown the good ole grassroots way — organically if you will — through years of dedicated road work and delivering the nutritious rock goods that keep the fans coming back for more. Thanks to such fervent support, Ragweed hosts two annual holiday festivals: their Music & Mayhem concert every Memorial Day back home in Oklahoma, which just celebrated its third year; and every Labor Day, the band's Red Dirt Roundup in Texas, which after three years of packing the Fort Worth Stockyards with 15,000 plus revelers — and being featured in a 2007 New York Times article on Cross Canadian Ragweed as the leading lights of the Red Dirt scene — expands this year to a second day in Nacogdoches.
Along the way, they've also been name checked in a song by rocking country star Dierks Bentley, who is also the namesake of Canada's oldest son, Dierks Cobain Canada (heard at the start of "Blue Bonnet"). The band's songs are also used as intro music by Pittsburgh Pirates catcher Ryan Doumit ("Alabama") and Pirates farm team player Adam Boeve ("Anywhere But Here").
It all began in Yukon, Oklahoma, where Canada, Pilato, guitarist Grady Cross and drummer Randy Ragsdale all grew up together. "We've known each other forever," Canada says. And in a small town with nothing much going on, what could four poor boys do 14 years ago but start a rock'n'roll band?
"We're country boys that rock'n'roll," Canada explains, crediting their propulsive and rocking roots style to "the kind of stuff we grew up on. My sister had nothing but Creedence, Skynyrd and Marshall Tucker just blasting out of her room. Then you'd go to the poolroom and my dad would be listening to Merle Haggard, Willie, Johnny Paycheck and George Strait. At Grady's house it was the same thing: His older brother would be listening to Skynyrd, his dad would be listening to Merle. And Randy's dad, he played with Merle and Bob Wills and all those guys."
The foursome eventually moved to Stillwater, OK, the college town that has been the state's musical breeding ground, and also started winning over Texas with a weekly gig in the Lone Star musical mecca of Austin. After releasing two studio albums and two live discs on their own label that generated handsome indie sales and becoming a top live attraction in both states, the group's crackling regional buzz caught the ear of music business legend Tony Brown, who signed Cross Canadian Ragweed to Universal Records South. Over their four previous major label albums — Cross Canadian Ragweed (aka "the purple album"), Soul Gravy, Garage and Mission California — Ragweed has reaped a slew of rave reviews and began cracking the country Top 10 and pop Top 40 charts while expanding its fervent Southwestern following nationwide with dedicated touring throughout every year.
"I guarantee you that if we're off the road for a week and a half, we start jonesing for it," says Canada, who explains that the longtime pals are like a musical and personal brotherhood. "I see my sister maybe 10 times a year, and that's not nearly enough. But I see these guys almost every day. And if I go a couple of days without 'em, I have to call 'em — hey, what are you doing? We're closer than brothers most of the time. I've seen brothers fight more than we do. And if somebody gets their panties twisted over something, we sit 'em down and say, hey, what's wrong? Well, this is bothering me. Well, let's fix it and get over it and go rock'n'roll, because it ain't that bad."
"We've always gotten along," adds Pilato. "We've always shared our musical tastes with one another. We've always just tried to make it work and not let the little things get in the way of the big picture, which is doing this for the rest of our lives. We love playing live — that's our deal."
To get prepped to hit the studio for Happiness and All The Other Things, the band were joined by McClure and Briggs onstage for a road trip from Chicago to Southern California, where they all ensconced themselves together in a house and nearby studio to lay down the album. As with their previous releases, a unifying thread emerged by sheer fortuity from the songs as they were recorded. "It seems like every record we make there's always a theme, but it's never really on purpose," notes Canada. "It just kind of happens."
This time out, "We call it Happiness and All The Other Things because it's also sad," Canada explains. "I write a lot from watching other people's relationships, and there were a lot crumbling down around me. I just watched everyone else's life unravel and also looked at mine, and it can be either happy or sad."
For Cross Canadian Ragweed, playing rock'n'roll is all about being real and staying true to the music, says Canada. "We've got to be as honest as we can. Not that we were really trying to be that 'honest band.' I just feel like we don't have choice. You've got to write what you know. I think if you have the ability to make it rhyme and you know that story or you have that emotion, then put it down."
The band's initials, CCR, by sheer coincidence are the same as that of another great American rock'n'roll band with a decidedly Southern musical slant — Creedence Clearwater Revival. "I do think there is a parallel similarity there because they did something different and I think we do something different," Canada admits. And the elder CCR's John Fogerty gave the younger CCR a hearty thumbs up when they recently opened for him and he popped into their dressing room to slyly say, "I've always wondered what it would be like to get back together with the real CCR."
At the heart of Cross Canadian Ragweed is a spirit and sound that the Arizona Daily Star hails as "simple, driving rock — common-man's poetry set to music." And it works marvelously for the group, three of whom now live in and around the burgeoning musical center of New Braunfels, Texas in between Austin and San Antonio, while Cross holds down the home front back in Oklahoma. But any physical distance between them has no effect on their dedication to going the distance as a band. "We were all friends first, so that is a big factor in it," Cross explains. "We've been through the van days; we were in a van with a trailer for seven years, so you learn everyone's buttons real quick. So once you get past all that, I think you've got it made. We've always been pretty tight. I think the music really keeps us together."
And as is evident from the musical unity and passion that brims throughout Happiness and All The Other Things, "We love doing what we do," concludes Canada. "If you love doing what you do and you can feed your family, keep doing it"