Terri Clark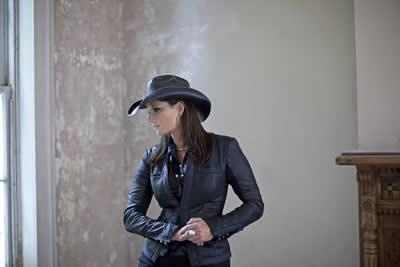 Terri Clark Biography
Canadian Terri Clark made her breakthrough in the mid-1990s with mainly uptempo, female attitude songs, that portrayed an image of the tough chick in the tight Wranglers and cowboy hat. With a string of top 10 country hits, including a gold record for her revival of Poor, Poor Pitiful Me, the leggy singer rapidly became the leader and role model for what might be termed the 'country grrrl' audience - independent-minded young women who know what they want and take no guff from any guy. But it was Terri's inclusion, of four little words-'size don't matter anyway' (an example of a lie that women tell) in her hit Girls Lie Too-that really agitated the country sisterhood. A new line had been crossed; the Wrangler bulge had been scrutinised. Terri was not finished though and I Just Wanna Be Mad a hard-driving, strong-woman rant, became a country chart-topper in 2003 and helped pave the way for Gretchen Wilson and her tough-chick anthem Redneck Girl.
Terri, was born into a musical family in Montreal, but raised in Medicine Hat, Alberta. Her grandparents, Ray and Betty Gauthier, were country stars in Canada, opening shows for stars like George Jones and Little Jimmy Dickens, while her mother sang folk songs in local coffee houses. As a child, Terri listened to her grandparents' country records and taught herself how to play guitar. Throughout her adolescence, Clark sang, played and listened to country music; she was particularly inspired by female artists like Reba McEntire, the Judds and Linda Ronstadt.
When she was 15, Terri decided that when she graduated high school, she would immediately go to Nashville. In 1987 a supportive mother drove her here with little money and no green card. Having found somewhere to live, a week later her mother returned home to Canada and the 18-year-old Terri set about her career in country music. She landed a job singing at Tootsie's Orchid Lounge, a honky-tonk bar across the alley from the historic Ryman Auditorium. But it was to be another six or seven year before she signed a record deal with Mercury Records. Her first single Better Things To Do hit the country top 5 in 1995. With her twangy vocals, cowboy boots and beat-up Telecaster guitar, Clark was a change from the pop-country divas who had dominated radio. Commercial success continued for the next few years with several more songs cracking the top 10, including the chart-topping You're Easy on the Eyes.
With her fourth album, FEARLESS in 2000 she made the transition from tough-but-vulnerable chick to a song stylist. It had more of an acoustic, rootsy sound as typified by No Fear, a song about digging deep to find your true self that she co-wrote with Mary Chapin Carpenter. The album, though, critically-acclaimed, didn't produce any radio hits. Terri's comeback album was 2003's PAIN TO KILL, which yielded the big hits I Just Wanna Be Mad and I Wanna Do It All. Only a handful of Canadian country acts have succeeded in establishing lengthy careers in America, and most of those, like Hank Snow, Anne Murray and more recently, Shania Twain, have also developed a solid international market for their music, which is an area that Terri Clark is keen to pursue.
Alan Cackett (editor Maverick)