Brenda Lee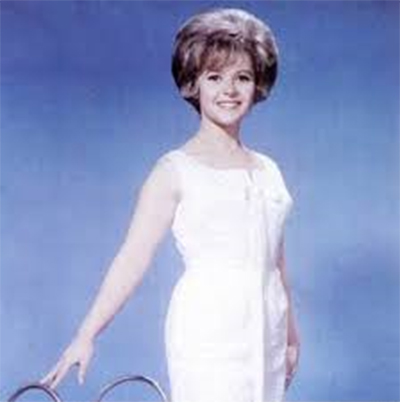 Latest News
Brenda Lee - Sings Country Vol 2. Out now.
Links
Brenda Lee Biography
Once known as 'Little Miss Dynamite,' (she is under five feet), Brenda Lee was the world's most popular female singer from 1960-65. Something of a child prodigy, she burst upon the pop world as a fifteen-year-old with the million-selling Sweet Nuthin's in 1959. For the next six years she hardly put a foot wrong as she dominated the charts with a mix of teen angst ballads and uptempo rockers such as I'm Sorry, All Alone Am I, Dum Dum, Fool No.1, Break It To Me Gently and the perennial Rockin' Around The Christmas Tree. Raised on country music, almost all of her pop hits were recorded in Nashville, with the same session players that were working on then current country hits by Patsy Cline, Jim Reeves, Eddy Arnold and Marty Robbins.
Following several minor hits in the States, Brenda hit the top in 1960 with I'm Sorry, one of the best pop songs from rather an indifferent era. The lyrics had everything a good teenage song should, and it really captured the times. Believing rock'n'roll to be a fad, but sensing they had a voice with long-term potential, Decca Records executives pushed Brenda toward supper-club shows and ballads such as I Want to Be Wanted, Emotions and Fool # 1 once she hit her mid-to-late teens. Such career moves may have cut into her hit-making days as a rock'n'roller, but they did give Brenda a broad foundation from which to build a lengthy career.
Now an elder statesperson of the Nashville pop-country crossovers of the 1960s, Brenda Lee remains a highly regarded and sophisticated international star. She is a member of the Rock and Roll, Country Music and Rockabilly Halls of Fame. She is also a Grammy Lifetime Achievement Award recipient. She continues to tour worldwide, with a large and loyal following in Japan, Germany, the UK and Australia. In recent years she has served on various CMA boards and committees and been heavily involved in charitable organisations. As you listen to this selection of recordings, many appearing on CD for the first time, you can tell that despite all of her pop and rock'n'roll history, Brenda has always been first and foremost a bona fide country singer.

Alan Cackett